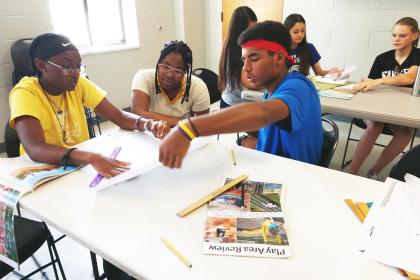 The application deadline has been extended until Tuesday, October 22nd for the Kingston YMCA Farm Project's five-month youth employment program for the design of a memorial site at the Pine Street African Burial Ground. This sacred land was protected in May by the Kingston Land Trust in Partnership with Harambee and in collaboration with Scenic Hudson. Under the direction of KaN Landscape Design, based in Kingston, the YMCA Farm youth will lead the community to address how to convert the existing residential backyard that houses the unmarked burial ground into an interpretive site for reflection and education. 
The Kingston YMCA Farm Project has been recruiting students since the end of September. These students, ages 14-18 will be paid to participate in this program. Applications can be found at the front desk at the YMCA of Kingston or at PineStreetAfricanBurialGround.org. The design project will run weekly on Tuesdays, from 2:30 to 5:30pm from November 2019 to March 2020. The youth who are selected will co-host a community kick-off meeting to introduce the program to the public on November 14th from 6-7:30pm at the Ulster County Restorative Justice and Community Empowerment Center at 733 Broadway in Kingston. 
"We need to let our youth create a better future, so that we can look back and see a better past," says Tyrone Wilson, executive director of Harambee. Youth development is a priority for Harambee, and was of special interest to Harambee board member Esther Taylor, who passed away last Thursday. This program will be dedicated in her loving memory. 
"The Kingston Land Trust, in partnership with Harambee, is grateful to team up with KaN Design and the Kingston YMCA Farm Project to offer this program. It will meaningfully connect community members with the land through direct experience, and will reframe and acknowledge the previously untold history of slavery in our region, as well as the African culture that is a part of our collective land history," says Julia Farr, executive director of the Kingston Land Trust.
 
Program Purpose
The purpose of the program is to create an educational methodology, and an immersion into local history and culture, through investigative learning. It will also support students to inquire, through open discussions and the analysis of memorial precedents, the notion of a memorial site. The design project will emphasize the relationships between this site, and the African Burial Ground National Monument in New York City and the Harlem African Burial Ground, as well as with their respective teams of scientists, architects, students and partners.
Program Overview
The students will be led through a series of workshops that will give them the tools and skills to comprehend the process of site analysis and planning; how to evaluate existing conditions, constraints and assets; and finally allow them to propose creative educated answers for a site design. The workshops will be set up to stimulate the student's creativity and critical thinking, and will include the means and processes that lead to a successful project implementation, such as how to invite and create interest and convey information. Throughout the program, special guests including archaeologists, ethnobotanists, architects, and historians will present relevant projects to the students and encourage an interactive conversation. The students will regularly present what they have learned to the community. At the end of the series, the students will organize a community design charette and present their work. 
Program Funding
This program won the City of Kingston's Participatory Budget vote for Midtown Kingston and received $20,000. These funds--coupled with the Kingston YMCA Farm Project funding for the students' stipend and funding from the Kingston Land Trust through a $2,500 grant from Ulster Savings Bank, and a $5,000 grant from a foundation--will cover the program costs. The groups are now seeking additional funding for the filming of this process towards a documentary by Growing Films that will allow for this significant story and process to be shared with a broader audience. An anonymous donor has pledged $5,000 and a match is being sought through donations from the community by November 11th. Contributions can be made at PineStreetAfricanBurialGround.org.
---
Youth Employment Application Link: kingstonlandtrust.org/resources/pine-st-african-burial-ground/youth-design-application
Youth-Led Design Program Brochure Link:  kingstonlandtrust.org/resources/pine-st-african-burial-ground/youth-design-brochure
To make a contribution, please visit donorbox.org/protect-pine-street-african-burial-ground
To find out more about the site, visit: PineStreetAfricanBurialGround.org
---
For more information on the history of the site, read the report by local archaeologist, Joseph Diamond: Owned in Life, Owned in Death: The Pine Street African and African-American Burial Ground in Kingston, New York. 
The Kingston Land Trust is 501c3 nonprofit organization that protects, creates access to, and activates land for the common good.
Harambee is a 501c3 nonprofit organization whose goal is to bring the community together through celebration and awareness of African American History.
Kingston YMCA Farm Project's mission is to educate, nourish and connect the Kingston community with our urban farm. We are committed to racial and economic justice by working to create a more equitable food system for all. We are a nonprofit program of the YMCA of Kingston and Ulster County.  

Growing Films is a local full service media company that produces, shoots, and edits artistic commercial, documentary, and storytelling content.
KaN is a Landscape Design firm committed to the creation of unique, engaging and integrated spaces.
KaN team approaches landscape projects as site curator, a content specialist involved with the anthology, interpretation, and display of human and environmental heritage material.
June 2018: The Kingston YMCA Farm Project and KaN Landscape Design partnered successfully on a previous pilot design project
May 2019: Volunteers help clean up the Pine Street African Burial Ground for the Community Gratitude Ceremony
May 2019: Community members gather for at the Pine Street African Burial Ground for the Community Gratitude Ceremony