Jordan Alexander Williams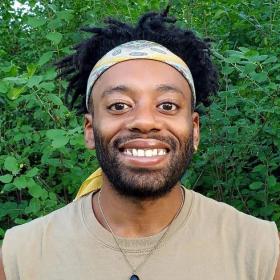 Bio
Pronouns: they/them
Jordan Alexander Williams is a Queer Hoodoo, earth tender, and future ancestor -- joining Kingston Land Trust as the new Land Steward. 
Jordan was born and raised in the so-called Chicagoland area of Illinois -- lands stewarded by many peoples and lineages including: the Potawatomi, Miami, Ho-Chunk and a dozen more Indigenous Nations, and Hoodoos/Black folks of the so-called American South seeking refuge during the Great Migration. 
In 2016, Jordan graduated from the University of Illinois with a degree in environmental science and a concentration in socio ecology. In the five years since, they have collaborated with human and more-than-human beings across Turtle Island to: nurture the development of environmental changemakers of color ; support organizations with cultural shifts towards anti-racism and cooperative leadership ; advance climate and ecological justice ; and build power and liberatory pratice/process with Queer and Trans Black, Indigenous, and People of Color (QTBIPOC).
Some of Jordan's specific and more recent collaborations include: 
Jordan trusts that the healing and liberation of people and planet will come by dancing in the sun and moonlight, getting our hands in the soil, caring for each other, and reclaiming and evolving the earth-sourced wisdom(s) of our ancestors.