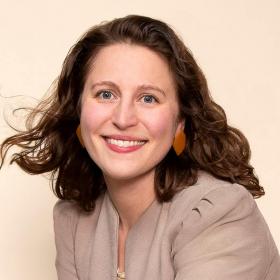 Bio
Pronouns: She/Her/Ella
Julia applies her background in urban design, environmental planning, community organizing and Spanish translation to building programming and initiatives that make land relevant to Kingston's urban population and promote a healthier and more united city.
As a trained landscape architect and permaculture designer, Julia previously worked on several land-based projects, including public orchard planning for Greenstreets triangles at the NYC Department of Parks and Recreation and developing the open space plan for a marginalized neighborhood in São Paulo. She also worked at the Local Economies Project/Hudson Valley Farm Hub toward building a more equitable and resilient food system with a focus on language justice.
Julia holds a Master of Landscape Architecture from the City College of New York and conducted master coursework in environmental planning and management at the University of Chile. She received her BA from Binghamton University in environmental studies with a focus on sustainable development. Julia is also certified in permaculture design through Appleseed Permaculture, in Teaching English as a Second Language from Bridge-Linguatec and in English-Spanish translation through Adelphi University. Julia now serves on the Land Trust Alliance's national Land Trust Leadership Council.