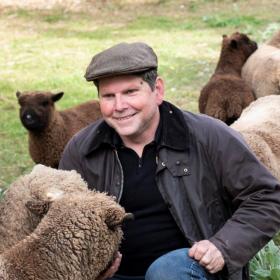 Title
Director, KLT Board of Directors
Bio
Rob was born and raised in Kingston, a graduate of Bard College.  He is a self-proclaimed provincialist - loving everything local, the mountainous landscape, river and creek valleys, natural and social history and of course all the diverse people who call this place home.  To that end Rob serves on the staff of the Old Dutch Church as a commissioned pastor, where he tends the old and welcomes the new.  Among the other flocks Rob cares for, are a flock of Nankin Bantam Chickens, and a flock of Traditional Southdown Sheep. Rob began keeping chickens in Kingston when he was only eight years old and has a been growing his flock of sheep for about 7 years.  His interest in gardening and architecture led him on a career path for over 20 years as a landscape gardener and estate manager. 

Rob has a passion for building community around land, and describes it as, "the perfect foundation to explore our life together. Reorienting and reconnecting ourselves back to the land is a necessary starting point for learning how to care for creation and each other."   

As a board member of the Kingston Land Trust, Rob is excited to explore all the intersectionality of people and landscape.  Welcome home earthlings!
Title
Director, KLT Board of Directors