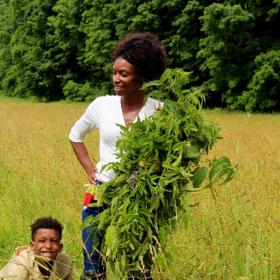 Title
Finance and Technology Steward
Languages Spoken
Multilingual: French, Spanish
Bio
Tamara Grace Dumay  is a mother, herbalist &  farmer  born in Westbury Long Island. A  first generation of her family  from the Haitian Countryside.  She is a graduate of Regents College, London and has taken Masters certificate courses in International Affairs at the New School. Having worked as an Account Manager at Amazon Digital Media Group, Vevo Music, USA Today, among others, Tamara's background  is in digital marketing and technology.
She began her journey as a farmer over 3 years ago when she was struck by a vehicle in the middle of New York City.  The only place  where she could walk comfortably to heal  her injuries was on unpaved land.  This amazing farm who believed in land access for women of color was kind enough to take her in with her son and small online business. It was also during this time that Tamara  became involved with KLT's Land Matching Program & speaker at The  2021 *Land In Black Hands* Program. 
Since this life changing experience,  the important work of land preservation, herbal medicine, natural health education and ministry has become an integral part of work and life for Tamara. She's  looking forward to activating her presence in Kingston and engaging
in community.
In her spare time Tamara enjoys adventure traveling, cooking, painting, and African dance.
Title
Finance and Technology Steward
Multilingual: French, Spanish