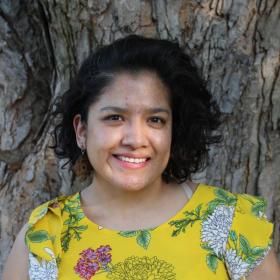 Title
Director, KLT Board of Directors
Bio
Veronica has lived in the Hudson Valley for 15 years. She enjoys being part of the community and likes to meet new people, dancing salsa and going to the local farmers markets, spending time with her family and growing organic vegetables at the YMCA Farm Project, a local urban farm.
Veronica is bilingual, and has volunteered as a translator and interpreter for different organizations in the area, such as Catholic Charities, the City of Kingston, among others. This motivated her to improve her skills, and she obtained her Certification as a bilingual translator/interpreter from Adelphi University.
One of her goals is to include the Spanish speaking community that live in the Hudson Valley to be part of all the positive changes that are happening in the area. She is part of the Comida y Tierra team, a program of the Kingston Land Trust. Comida y Tierra is a series of conversations in Spanish between the English speaking community and the Hispanic-speaking Community about land, its protection and the different issues that are happening in our community.
Title
Director, KLT Board of Directors