Welcome to the Land Matching Portal. The land is here for you!
This is a free* community resource to connect people so they can arrange shared use of privately and publicly owned land.
Help us create access to land for growing food during the COVID-19 crisis by donating to our Land for Food Fund here.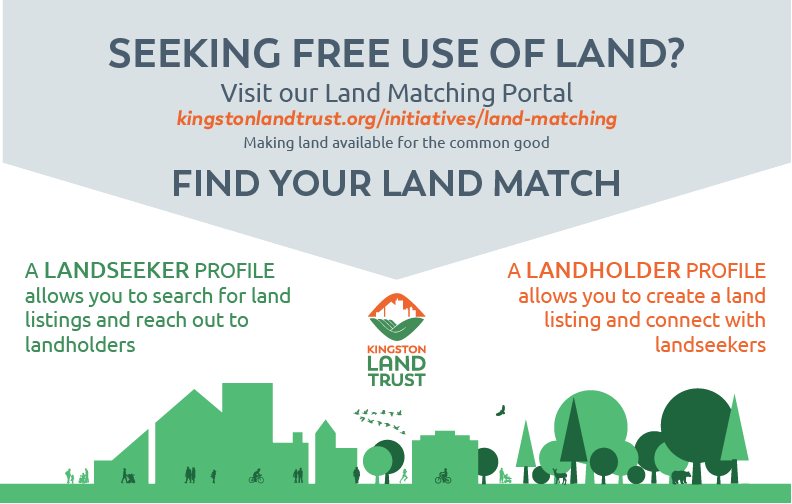 Through the website portal, approved landseekers (people looking for land to use) and landholders (people who own or manage land) can search for each other based on location and shared land use interests. We hope that this program will lead to the conversion of underused land into green amenities, while strengthening ties in our community. Users are encouraged to contact each other to see if they are the right fit and to work out the details of a mutually beneficial land use arrangement. This program is intended for land uses that are socially and environmentally responsible.
For more information, check out our 2019 press release here or contact Greg at greg@kingstonlandtrust.org or 845-532-5735. 
---
Get Started!
1. Review the KLT Land Use Guidelines (in the drop-down below)
2. Create a profile (by clicking on one of options in the drop-downs below)

Note: 2019 was the pilot year for this portal. We will continue to add more resources to the drop-down below (such as KLT design and planting guidelines) and welcome feedback to improve this portal and expand this initiative. 
*We ask for a suggested donation of $20 to help us operate this program.
---
Terms of service: The Kingston Land Trust's "Land Matching Portal" is designed and intended solely to provide and facilitate contact and communication between landholders and prospective land stewards. Any and all actions, arrangements, activities, projects, programs or relationships of any kind which may result or derive from such contacts or communications are and will be fully independent from the Kingston Land Trust and its "Land Matching Portal" and the Kingston Land Trust shall have no involvement, direct or otherwise, in, or any responsibility, legal or otherwise, for any of the same.
 KLT Land Use Guidelines for Land Matching Portal:
Note: Please heed COVID-19 outdoor safety guidelines listed here.
The KLT Land Matching program encourages a range of possible land uses that have a public and environmental benefit, such as gardening, farming, community gatherings, wellness activities, foraging, ecological land management, and outdoor classrooms or playspaces. This list can grow based on other land use interests suggested by users and approved by the KLT. 
Land uses should maintain and enhance open space and green space. 

Gardening and land management practices should not use synthetic fertilizers and pesticides. 

Activities associated with the land use should be inclusive of race, language, sexual orientation and gender identity.
If a profile submission suggests a land use that conflicts with these guidelines, KLT staff may ask the user to clarify or edit the submission before it is approved and searchable.
Are you a landowner, leaseholder, or contact person responsible for land in or around Kingston who is looking for one or more people to use this land in a way that is consistent with the KLT Land Use Guidelines for Land Matching (listed above)? Create a landholder profile and submit one or more land listings. When your profile and land listing(s) are approved, you'll be able to search the profiles of landseekers based on location and/or land use interests. Get in touch with a landseeker to discuss the possibility of making a mutually-beneficial agreement for the land to be used. 
Are you an individual or group of individuals living of Kingston or the surrounding area who is seeking land to use in a way that is consistent with the KLT Land Use Guidelines for Land Matching (listed above)? Create a profile and describe your land use interests. When your profile is approved, you'll be able to search land listings based on location and/or land use interests. Get in touch with a landholder to discuss the possibility of making a mutually-beneficial agreement to use the land.
KLT COVID-19 PRECAUTIONS: Until the governor's pause is lifted,  land should be matched between land seekers and land stewards by phone/videochat, not in person. Site visits must be done in shifts. No more than one person should be on the property at a time unless they are a household unit. All tools, work areas, and storage areas should be separated if there is more than one person stewarding the site. Gates and other common surfaces should be sprayed down with alcohol before and after each use. Consider wearing a mask or other covering for your nose and mouth.
On March 29 Governor Andrew M. Cuomo announced all NYS On Pause functions will be extended for the next two weeks. The Governor also directed the state nonessential workforce to continue to work from home for an additional two weeks through April 15th. The state will re-evaluate after this additional two-week period.
Relevant points from the Governor's 10-point NYS on PAUSE plan is as follows:
Non-essential gatherings of individuals of any size for any reason (e.g. parties, celebrations or other social events) are canceled or postponed at this time;

Any concentration of individuals outside their home must be limited to workers providing essential services and social distancing should be practiced;

When in public individuals must practice social distancing of at least six feet from others;

Individuals should limit outdoor recreational activities to non-contact and avoid activities where they come in close contact with other people;

Sick individuals should not leave their home unless to receive medical care and only after a telehealth visit to determine if leaving the home is in the best interest of their health;

Young people should also practice social distancing and avoid contact with vulnerable populations; and

Use precautionary sanitizer practices such as using isopropyl alcohol wipes.
"Matilda's Law" includes the following rules for vulnerable populations: Remain indoors; Can go outside for solitary exercise; Wear a mask when in the company of others; To the greatest extent possible, everyone in the presence of vulnerable people should wear a mask; Always stay at least six feet away from individuals