Supporting Sustainable Affordable Homes
---
A guide for land trusts and housing organizations to collaborate on inclusive, holistic, and sustainable affordable housing developments.
Developed through a partnership between The Kingston Land Trust and Bard College's MBA in Sustainability
2020-2021 Undertakings:
Build out our Land for Homes team through new board members, consultants and partners!
Participate in the Rapid Rehousing Working Group
Collaborate with Bard MBA in Sustainability student team to create an open source guide for land trust and housing nonprofits to work together to create affordable eco-dwellings 

Based on the Rapid Rehousing Group's identification of the need for efficiency cottages to house folks who are currently un-housed, we are developing a model that community groups can use as a resource to establish a healthy, closed loop connection between housing, the land, and community. 

Support the Kingston CLT organizing effort (more below)

Through participating in planning and community meetings
Offering consultant input
Sharing materials and resources

Develop land-based plug-in services to housing nonprofits
2017-2019 Undertakings:
In 2018, we launched our annual Land in Black Hands conversation, to showcase alternative models of ownership, including the Community Land Trust.
We regularly met with national CLT expert, John Davis of Burlington Associates on how to launch a CLT in Kingston
 We regularly met with the Kingston City Land Bank to determine how to provide a permanent affordability track.
We held or attended more than 50 partner and stakeholder meetings to assess the work that is already being done as well as the work that is needed, and how we can fill the gap, including Kingston Tenants Union (now Real Kingston Tenants Union) and Rise Up Kingston
We met with regional efforts, including the Newburgh Land Bank, the Albany County Land Bank and Albany Community Land Trust, and participated in CLT-Land Bank development conversations in Poughkeepsie.

We got trained in CLT formation through Grounded Solutions Network

We presented about CLTs to spread the word about this model at the Successful River Cities Coalition, and the Bard Center for Environmental Policy.
We hosted a community Comida y tierra dinner conversation in Spanish, with RUPCO and the Kingston City Land Bank as our guests.
What's the difference between...?
Kingston Land Trust, and our role in CLT development
As a land trust, we have a special power granted by New York State Conservation Law to conserve land forever. Although we typically protect land for open space for the environment and community use, as an urban land trust, we aim to respond to the most pressing land needs, which currently include creating access to a permanently affordable housing market. We have been studying and promoting the Community Land Trust model, immersing ourselves in Kingston's housing issues and meeting with stakeholders and potential collaborators and consultants since 2017.
We hope to collaborate with the Land Bank and budding CLT group, as well as other housing nonprofits and efforts to offer our capacity to help close the wealth gap and prevent displacement for generations to come. Our aim is to collaboratively develop a Community Land Trust. We see our role as piloting some approaches to help get the effort off the ground. 
We hope to partner with the Land Bank to receive properties so that we can permanently protect their affordability.
The Land Bank is a quasi-municipal nonprofit that was recently established in Kingston to assemble, temporarily manage, and dispose of properties for the purpose of stabilizing neighborhoods and encouraging re-use or redevelopment. It purchases properties from the City of Kingston that have been tax-foreclosed and maintains and facilitates redevelopment of, markets, and disposes of the land-banked properties. 
An independent community group, that grew out of the Kingston Land Trust's CLT committee, has begun to engage Kingston residents to establish guiding documents for a future Kingston CLT, and we have been supporting this effort through participating in planning and community meetings as a resource. 
CLTs create affordable housing while still allowing low-income residents to build equity as homeowners.  Moreover, because the CLT retains ownership of the underlying land, this housing remains permanently affordable, even as the original beneficiaries of an affordable home price sell and move on.  This long-term, continuing benefit makes CLTs an especially efficient use of affordable housing subsidies. By locking in permanent access to affordable housing, CLTs can play an important role in countering the market-driven displacement associated with gentrification.  And by stewarding neighborhood land for the public good, not speculative profit, CLTs have played an equally important role in stabilizing communities by preventing unnecessary foreclosures
Source: Democracy Collaborative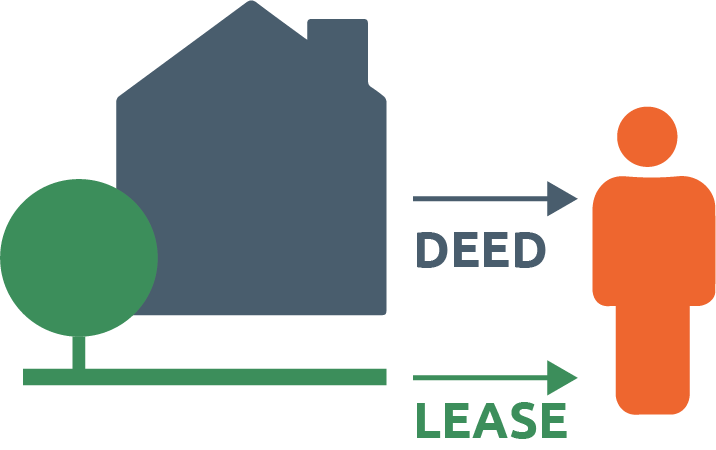 View Habitat for Humanity NYC's video overview of the CLT model