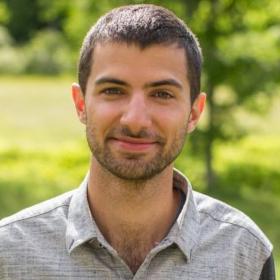 Title
Director of Conservation and Stewardship
Languages Spoken
Multilingual: Spanish, Arabic
Bio
Pronouns: he/him/él
Greg Shaheen grew up in Kerhonkson, at the foot of the Shawangunk ridge. After majoring in earth and environmental science at Wesleyan University, he helped establish a community-based environmental center in the mountains of Lebanon where he carried out educational and peace-building activities with Syrian refugee and Lebanese youth. He also engaged with refugee communities in Philadelphia and New York City by teaching English, organizing a fundraiser exhibition with art and stories he gathered from Lebanon, and helping introduce refugees and other immigrants to urban farming as an intern with the International Rescue Committee.
From 2015-2018, Greg worked as a freelance Spanish interpreter in the US and spent time volunteering and working in Lebanon, Cuba, and Colombia on projects related to community development, music, and agroecology. He has enjoyed a natural transition back to his beloved Ulster County where he is deepening his relationship with the land he grew up on. 
Greg wants to facilitate people's connection with the unique natural beauty and resources of this region that have had such a profound impact on him. He strives to make access to land in and around Kingston more equitable and to help build a more unified and resilient community in the process.
Title
Director of Conservation and Stewardship
Multilingual: Spanish, Arabic