Pollinators are crucial to healthy natural and agricultural systems across the world. As part of our Land For Food initiative, we commit to supporting pollinators in our service area through habitat protection, plantings of native flowering plants, developing local garden projects, and forming innovative partnerships!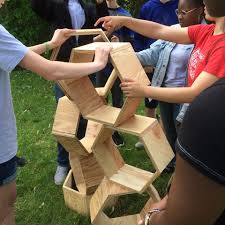 The Hudson Valley Bee Habitat (HVBH) is doing amazing work to fulfill their mission of utilizing their expertise as artists, designers, and mindful educators to pollinate public engagement with bees, the environment, and each other in order to help both humans and bees thrive. 
The Kingston Land Trust is the proud fiscal sponsor of a DEC Community Impact Grant for HVBH to create bee-friendly plantings and structures on KLT land between Gross Street and the Kingston Point Rail Trail. HVBH will engage the local community in the design and construction of the project to provide long-term infrastructure for bees in Kingston. This project will be part of the Kingston Beeline, an emerging network of pollinator habitat sculptures and gardens along the Kingston Greenline.
Click here to more about how the Hudson Valley Bee Habitat combines art, community, and ecology to protect pollinators and how you can get involved.
We are the fiscal sponsors of a $5,000 family foundation grant to build a pollinator garden in midtown Kingston, a project initiated a local community member. We are currently working with the grantee and the City of Kingston to identify a suitable site for this project. Stay tuned for updates!