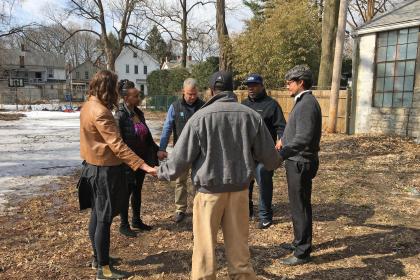 KLT $200K fundraising goal to protect the Pine Street African Burial Ground is in reach: Scenic Hudson tips the scales
Scenic Hudson matches Kingston Land Trust's $40K, and Old Dutch Church contributes $10K, boosting commitments to $122K: The Harambee Coalition is helping to raise remaining $78K
The Kingston Land Trust (KLT) has received a contribution of $40,000 from Scenic Hudson toward the protection of the Pine Street African Burial Ground in Kingston, as well as a contribution of $10,000 from the Old Dutch Church. This burial ground is where countless enslaved people residing in or nearby Kingston were laid to rest between circa 1750 and circa 1860. KLT has been working to secure this site since last fall when it discovered that a bank was planning to auction the property. When KLT alerted the bank to the fact that the residential property contained an unmarked African burial ground, the bank agreed to hold it for KLT to purchase. The bank recently granted an extension for a closing in May, allowing KLT the necessary time to raise the remaining $18,000 to purchase the site, and an additional $60,000 to stabilize the existing building for future use as an interpretive center.
The Kingston Land Trust has been engaging the community and raising funds since the beginning of February for the purchase and restoration of 157 Pine Street and an adjoining parcel. This effort has been in partnership with Harambee, a Kingston-based organization dedicated to raising awareness about African-American history. The goal is to once and for all acknowledge and protect this historic site. In addition to KLT's original commitment of $40,000, KLT and Harambee have raised more than $32,000 from 200 individual donors. Motivated by the critical nature of the cause and the overwhelming support from the community, Scenic Hudson decided to join in with a major contribution. "The long-overlooked Pine Street Burial Ground deserves to be preserved and honored," says Steve Rosenberg, Scenic Hudson's Senior Vice-President and Executive Director of The Scenic Hudson Land Trust. "We are inspired by the vision and efforts of Harambee and the Kingston Land Trust, and we are proud to support and be a part of their work to redress historic wrongs and create a positive resource for the community."
The Kingston Land Trust protects and creates access to land in order to connect people to the land and to each other. "We have found that the community in its full diversity has come together around our initiative to protect the Pine Street African Burial Ground. Opening the site to the public will allow for deeper reflection on the difficult fact that slavery is a fundamental part of the history of Kingston. It will provide a physical link to the past where together we can begin to heal from the longstanding wounds that slavery has inflicted on our society" says Julia Farr, Executive Director of the Kingston Land Trust.
As local archaeologist Joe Diamond explains in his 2006 report about the Pine Street African Burial Ground entitled Owned in Life, Owned in Death, "Because of the social distance, color, and perceived moral differences between enslaved individuals and their owners, church burial had been denied enslaved individuals in New York since 1697. As a consequence, Africans and African Americans were buried outside the city limits, usually in areas known as the Common Ground. In both the African Burial Ground in lower Manhattan and the Pine St. Cemetery in Kingston, the burial ground was outside the fortified or palisaded area of the city."  
The Old Dutch Church, formally organized in 1659, was central to this history in Kingston and its current leadership and congregation have made this initiative a priority: "We can make amends for previous wrongdoings on behalf of those who came before us by acknowledging this history in the spirit of restoration and reconciliation," says Pastor Renee House of the Old Dutch Church. This sentiment follows from the Church's public apology for its "history of dehumanizing racism that allowed for the enslavement and subsequent segregation of our sisters and brothers of African descent." This apology was offered at the 2011 KLT-led rededication of the Mount Zion African-American Cemetery on South Wall Street, a landmarked cemetery that opened in the mid-1800s when the Pine Street African Burial Ground was portioned off into private property and built upon.
On Friday March 15, Kingston Land Trust, Scenic Hudson and Harambee staff gathered at the Burial Ground to celebrate their collaboration and pay respect to those who are buried there. Harambee's Executive Director Tyrone Wilson led the group of six in an African tradition of a ceremonial circle and chant of the word "Harambee" as a way of honoring the ancestors. "We are all Harambee because we are the coming together of people, which is the meaning of this Swahili word, and we are working together to save the final resting place of African people who were forcefully brought here to be slaves. United we stand." says Mr. Wilson. On site, the group discussed the vision of the future interpretive center, which will be focused around four areas: community healing, ancestral research, youth programming and African roots art.
As this effort has broader relevance beyond Kingston, Harambee is planning an upcoming fundraiser for the Pine Street African Burial Ground that will take place in New York City, where the African Burial Ground in Lower Manhattan was protected in the early 1990s and turned into a national monument in 2007 and another, in Harlem, is being redeveloped as The 126th Street Harlem African Burial Ground Memorial.
The next local fundraiser will be at The Anchor on March 31 from 4pm to 6pm, and will also serve as an after party for the Women's Bike Fest, of which KLT is a sponsor. A portion of all sales that day will be dedicated to the Pine Street African Burial Ground fundraising campaign as part of The Anchor's Community Sundays program. The Anchor is located at 744 Broadway in Kingston.
Many other local organizations and businesses have also shown support with contributions via sponsorship: To date, a total of $7,000 has been contributed by The Open Space Institute, RUPCO, Woodstock Land Conservancy, Radio Kingston, Earth Designs Cooperative, Rough Draft Bar & Books, Hudson Valley LGBTQ Community Center, Metal House Cider, Hudson Valley Current, Bailey Pottery, Miron Wine & Spirits, as well as The Anchor. KLT's goal is to raise $8,000 of the remaining $78,000 from additional sponsors.
---
To make a contribution as an individual or sponsor, please visit donorbox.org/protect-pine-street-african-burial-ground, or checks can be mailed to Kingston Land Trust: PO Box 2701, Kingston, NY 12402
To join Harambee's "Protect the Pine Street African Burial Ground Coalition," visit harambeekingstonny.org/joinburialgroundcoalition
For more information on the history of the site, read the report by local archaeologist, Joseph Diamond: Owned in Life, Owned in Death: The Pine Street African and African-American Burial Ground in Kingston, New York.
The Kingston Land Trust is a 501c3 nonprofit organization that protects, creates access to, and activates land for the common good.
Harambee is a 501c3 nonprofit organization whose goal is to bring the community together through celebration and awareness of African-American History.
Scenic Hudson preserves land and farms and creates parks that connect people with the inspirational power of the Hudson River, while fighting threats to the river and the natural resources that are the foundation of prosperity in the Hudson Valley.
Link to the Old Dutch Church's Statement of Reconciliation for Slavery and Racism
---
(high res photos can be provided upon request)
February 2019: Harambee and Kingston Land Trust, united around Pine Street African Burial Ground protection efforts at Harambee's Black History Month Kingston Gala (Left to right: Harambee Board Member Odell Winfield, Harambee Assistant Director Frank Waters, Harambee Board Member Esther Taylor-Evans, Harambee Board Member Richard Frumes, Harambee Executive Director Tyrone Wilson, Harambee Board Member Sharline Bevier, Harambee Board Member Christopher Warren, KLT Executive Director Julia Farr)
February 2019: Community members Jessica McNabb, Monique Tinsley and Lorraine Skinner are interviewed at Pine Street African Burial Ground by WAMC Northeast Public Radio.
March 15, 2019: Kingston Land Trust, Harambee and Scenic Hudson staff gather at the Pine Street African Burial Ground to pay respect to those buried there and celebrate their collaboration in protecting this sacred site.
March 15, 2019: Kingston Land Trust, Harambee and Scenic Hudson staff gather at the Pine Street African Burial Ground to celebrate their collaboration in protecting this sacred site. (Left to right: KLT Executive Director Julia Farr,  KLT Outreach Coordinator Shaniqua Bowden, Scenic Hudson Land Conservation Director Seth McKee, Harambee Executive Director Tyrone Wilson, Scenic Hudson Land Project Manager Abdiel Lopez-Torres, Harambee Assistant Director Frank Waters)
March 15, 2019: Kingston Land Trust, Harambee and Scenic Hudson staff conduct a site walk at the Pine Street African Burial Ground
March 17, 2019: Harambee Executive Director Tyrone Wilson presents on the Pine Street African Burial Ground to congregation members of the Old Dutch Church