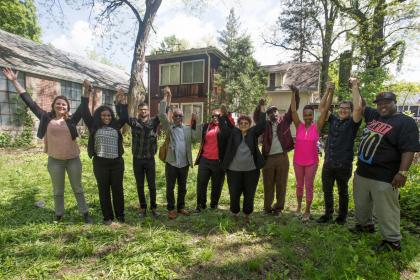 -- Kingston Land Trust purchases 157 Pine Street with funds raised--
The Kingston Land Trust (KLT) has purchased 157 Pine Street in Uptown, Kingston; the long forgotten historic African Burial Ground contained within is once and for all forever protected. In November of 2018, the KLT petitioned the bank to halt a foreclosure process and pull the property from auction so that the KLT and its community partners could raise the funds needed to purchase this historically significant site. Now that the site is secured, the KLT will work with partner organization Harambee and the community to restore the grounds and convert the building into an interpretive center for education and reflection.
"We are immensely relieved that the African Burial Ground is finally in the hands of the community so that it can receive due recognition. We are humbled by the outpouring of support for this initiative, and grateful to our partner Harambee, whose commitment, wisdom and collaborative spirit has helped us inspire a region to join together to bring this piece of history to light," says Julia Farr, executive director of the Kingston Land Trust.
"The coming together of people of the community and surrounding areas makes this journey even more powerful. We are creating a coalition of people from all ethnic backgrounds to come together and right these wrongs. We are displaying a better opportunity for our children to see and understand what a community working together looks like and what we can achieve by working together," says Tyrone Wilson, executive director of Harambee.
In addition to KLT's original commitment of $40,000, an additional $100,000 was raised for the purchase, including a $40,000 match from Scenic Hudson, more than 250 individual donations, and sponsorships from Episcopal Churches of the Mid-Hudson Region, Ulster Savings, Woodstock Land Conservancy, Mid-Hudson Jews for Racial Justice, Open Space Institute, Radio Kingston, Rupco, Central Hudson, Hudson Highlands Land Trust, The Anchor, Rough Draft Bar & Books, Earth Designs Cooperative, John Hallstein Carpentry, Hudson Valley LGBTQ Center, Metal House Cider, Hudson Valley Current, Bard Center for Environmental Protection, Miron Wine & Spirits, Bailey Pottery, R&F Handmade Paints, City of Kingston Common Council, and Ministry of Maat Inc.
"The enslaved African Americans who played a vital role in the settlement of Kingston have been silenced for too long. By protecting the Pine Street Burial Ground, the Kingston Land Trust and Harambee not only have assured the preservation of a powerful memorial to these oppressed people, but they have provided an important place for future generations to hear their stories. Scenic Hudson is honored to have supported this important initiative," says Steve Rosenberg, Scenic Hudson's senior vice president and executive director of The Scenic Hudson Land Trust.
"The protection of the Pine St African Burial Ground is emblematic of a new direction the land conservation community in the US is showing signs of heading in. Traditionally, land trusts protect open space with environmental or scenic conservation value and don't directly address historical injustices that relate to land and people. The Kingston Land Trust is pushing the envelope by digging into the more difficult parts of our history and prioritizing the protection and activation of socially significant land in this context. This can serve as a model for land protection efforts across the state and country," says KLT Conservation Coordinator Greg Shaheen. KLT Executive Director Julia Farr and Harambee Executive Director Tyrone Wilson will be showcasing the Pine Street African Burial Ground protection effort on a panel they are co-leading at the national conference of the Land Trust Alliance this fall entitled 'The Land That Binds Us: Socially Responsible Conservation'.
The Kingston Land Trust and Harambee are hosting a Community Gratitude Ceremony to thank the community for its support for this project and to introduce the public to site for the first time. The ceremony will take place at 157 Pine Street on Saturday, June 15th from 10am to 11am. It will begin with a drumming processional followed by guest speakers, a Harambee Circle Ritual and Q&A. This ceremony is planned as a kick-off event for Kingston's 7th Annual Juneteenth Celebration in honor of African American freedom from slavery which will take place at Hasbrouck Park from 1pm to 5pm.
The KLT and Harambee aim to raise the remaining $60,000 of their $200,000 goal in donations and in-kind construction services and materials to restore the building on site in preparation for its eventual opening as a cultural and research center. Donations can be made at Harambee and Kingston Land Trust events, as well as at donorbox.org/protect-pine-street-african-burial-ground, or checks can be mailed to Kingston Land Trust: PO Box 2701, Kingston, NY 12402.
---
May 2019: Members of Harambee and the Kingston Land Trust celebrate the protection of the Pine Street African Burial Ground (Photo credit: Kristopher Johnson)
May 23 2019: The Kingston Land Trust closes on 157 Pine Street (and Rear Property), permanently protecting the Pine Street African Burial Ground. (Left to right: KLT Executive Director Julia Farr, KLT Board Member Kevin McEvoy, Scenic Hudson Staff, KLT Attorney, Previous Owner)