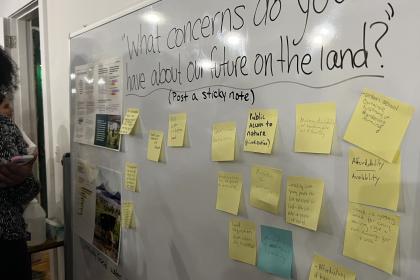 Para preguntas generales o solicitudes de asistencia, o si necesita materiales en español, envíe un correo electrónico a shaniqua@kingstonlandtrust.
 
PURPOSE
Land in Black Hands (LIBH) is a program of the Kingston Land Trust (KLT) dedicated to amplifying the voices and addressing the needs of BIPOC individuals who have endured generations of land and sovereignty dispossession. The program recognizes that equitable redistribution of resources is essential to addressing environmental and social crises. Land in Black Hands aims to create a more sustainable future for all by engaging communities in land-based practices that foster environmental stewardship, promote community well-being, and enhance climate resilience.
For more information on the Kingston Land Trust, please see Our Work.
JOIN THE NETWORK
The Land in Black Hands network is an affinity group of BIPOC farmers and growers. Our purpose is to inspire, promote and support utilization of radical solutions and the sharing of resources, challenges, and successes for the autonomy of BIPOC-led land projects. We uplift these voices to speak about their experiences and ability to access and steward land. In addition to forming a more supportive relationship, we'd also like to promote your work on our webpage and through our media outlets. Interested in becoming a member of the LIBH Network? Contact shaniqua@kingstonlandtrust.org.
GRANT GUIDELINES AND ELIGIBILITY

This grant program was made possible by a $50,000 contribution from Scenic Hudson's Climate and Environmental Justice Fund and supports BIPOC farmers and growers who often enter the field with limited access to resources and financial challenges. Many communities of color heavily rely on the fossil fuel-dependent food system, exacerbating health and mental health issues. This grant program will work to reduce this dependency, increase local production, and promote sustainable farming, agroecology, and regenerative agricultural practices. Applicants with projects aligned with these goals will be prioritized. Projects nearest to the service area of the KLT, which is the City of Kingston and towns of Hurley and Ulster, will also be prioritized. Applicants outside of the immediate Kingston area whose work benefits this community are encouraged to apply and will be considered as long as funds remain available.
Grants will be awarded in amounts up to $5,000 per project. Projects with extenuating parameters exceeding this amount (up to $10,000) will also be considered.
Land tenure (ownership, a lease, license, or other written agreement) for a reasonable time period will be required for projects that involve on-the-ground improvements to farmland. If tenure is less than five years, please be prepared to demonstrate in the application that the tenure is sufficient in relation to the improvements being made or services being provided.
Projects that meet the following criteria and will be taken into consideration when making funding decisions include:
Improvement of farm viability: Equipment purchases that facilitate the transition of growers to more regenerative and sustainable practices, reduces fossil fuel dependency, promotes sustainable agriculture that meets society's present needs without compromising the needs of future generations.
Increasing local agricultural production in Kingston, the town of Hurley, or the town of Ulster, NY
Equipment that promotes green living or green manufacturing methods that lessen the amount or types of resources used. (Eco-friendly products help the earth, not cause it harm.) 
Purchase of new or replacement infrastructure (for example, greenhouse, barn, fencing).
Purchase of new or replacement equipment, repairs or parts and applicable tools.
Funding for this program is limited. As funding remains available, awards will be made on an ongoing basis to eligible applicants that fulfill all application requirements and meet selection criteria. Awarded funds must be spent by December 31, 2024. (Extensions may be granted upon request but KLT encourages early spend-down.) Applications will be accepted on an ongoing basis and reviewed by the LIBH committee.
Disclaimer: A project may involve one or more individual farmers or farm families. Only one grant can be awarded per farmer/farm family. Grantees must NOT be a spouse/relative of a KLT employee.
HOW TO APPLY
Submit a proposal via application form, here.
AWARD PROCESS
Internal evaluation process.

An interview may be requested for further information on your proposal. 

If approved, applicants will receive electronic notification in the form of a Letter of Award within 60 days. 
*For reporting purposes applicants will be asked to provide receipts/documentation for proof of purchase.
CONTACT
For general questions or requests for assistance, or if you need materials in Spanish, email shaniqua@kingstonlandtrust.