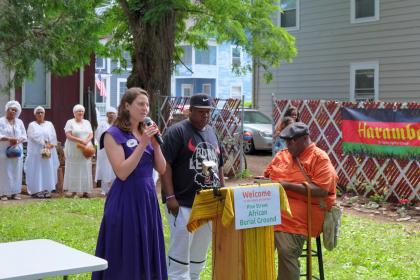 After five years of exemplary leadership, Julia Farr has stepped down from her role as Executive Director of the Kingston Land Trust (KLT). She has passed her responsibilities to the staff shared leadership team who have guided the organization with her for the past two years.

Over her tenure, Farr built a team whose work is now highly regarded locally and across the country. She helped form partnerships to protect the Pine Street African Burial Ground in perpetuity through the KLT's first conservation easement, and worked with Harambee to place the Sacred Ground in the hands of local Black residents. She led two other successful land protection projects in the City of Kingston, and co-launched innovative community-centered KLT initiatives including Comida y tierra: Spanish conversations about food and land, Land in Black Hands, and Land Matching. Farr also laid groundwork for the KLT to support permanently affordable and conservation-minded housing initiatives.
Farr served on the Land Trust Alliance National Leadership Council and presented many times at the regional and national level. Farr also forged strong relationships with local organizations such as Harambee, Scenic Hudson, the Kingston YMCA Farm Project, Hudson Valley Bee Habitat and the Land Trust Alliance, and helped carry out the KLT's vision of the Kingston Greenline in partnership with the City of Kingston and Ulster County. As she moves on to her next chapter, she leaves the KLT in a position to continue deepening its role as a land trust rooted in, and responsive to, the local community.
Of her departure, Julia stated: "It has been my great privilege to lead such an extraordinary organization over the last five years. We have been transitioning to a shared leadership model within the staff for the past two years. The staff are now ready to hold the leadership on their own and I will shift to being a resource for them and cheering them on from the sidelines. I am so proud of all of the good work we have been able to accomplish as a team over the past five years, and I am excited for what is to come during this next chapter of KLT leadership."
Sarah Brainard, Kingston Land Trust Board Chair, stated on behalf of the entire Board of Directors: "We are thankful for Julia's service and contribution over the years and grateful to have the opportunity for a seamless transition thanks to the shared leadership practices she built with the staff. During Julia's tenure, the organization was able to grow and shift in response to the changing needs of our community. We will miss her guidance but her legacy and impact have ignited many of the changes the land trust has put into action." 
Tyrone Wilson, Executive Director of Harambee, stated: "Julia Farr's leadership, knowledge, love and compassion has led the way to an amazing relationship with Harambee and the Kingston Land Trust. I don't believe the Pine St African Burial Ground project would have happened without her. Harambee is forever indebted to Julia and we wish her well in her future journey." 
Seth McKee, Executive Director of The Scenic Hudson Land Trust and Land Programs for Scenic Hudson, states: "Scenic Hudson tremendously values the leadership and good work that the Kingston Land Trust brings to the Hudson Valley. Julia Farr has been an inspirational leader of the organization, and an agent of positive change. Together, with her incredible team, KLT has accomplished so much for the community. They have broken new ground for land trusts nationwide, through collaborative projects that promote environmental justice and "righting of historic wrongs"—such as the Pine Street African Burial Ground, in partnership with Harambee and Scenic Hudson. We look forward to continuing collaborating with KLT, and we're confident the organization is in good hands as it bids Julia farewell."