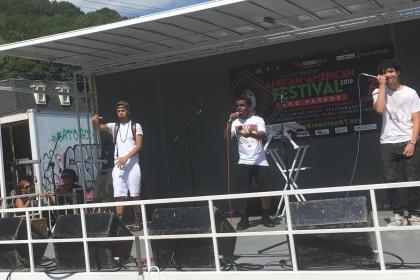 --Free 11/2 community event at Academy Green--
Cyph Culture, a local youth hip hop group will be hosting a youth talent showcase on November 2nd from 1 to 4pm at Kingston's Academy Green called Awakening Paths: Youth in the Spotlight: Our Past, Our Future. This free community event will highlight the Pine Street African Burial Ground and has been developed in collaboration with Harambee, Kingston Land Trust and Center for Creative Education. This event features a hip hop performance by Cyph Culture as well as motivational speaking and a "step up and speak"(open mic), performances from local artists and speakers and informational tables set up for community organizations. 
A walking tour to the Burial Ground at 157 Pine Street will be lead by Cyph Culture directly after the performances. Pizza and hot chocolate will be provided thanks to generous donations from Tony's Pizzeria and Dallas Hot Weiners. The event will be filmed by Radio Kingston and Growing Films toward a feature documentary of the Pine Street African Burial Ground.
Cyph Culture is a group of two young hip hop artists, 13lackout9 and Kai1zar, and a hype man, Brandon Styles who primarily grew up in Kingston, NY and have performed at multiple events ; Juneteenth, Let's Move Ulster, Rock The Boat, Carribean Festival in Saugerties, Kingston's 1st Annual African American Festival and many others. 
"We think of ourselves as more than a group, rather a lifestyle. Our goal is to display our positive mindset and encourage a motto, this could lead the youth together and stop violence. Each member of the Cyph carries a different motto that we all can agree on; mine is 'never let anyone's opinion lead you to a miserable life, do what you want' meaning, lead your own life to your true happiness. That's the true us, we're a lifestyle, a culture" says 13lackout9. 
"Live - Learn - Elevate - Execute." It's more of a motto because the stages of life that you go through you hit these certain points. So as you 'Live' your life you come to meet certain ups and downs within those moments, you obtain the knowledge and 'Learn' to pick yourself up and 'Elevate.' From there, Brandon Styles says, you must never give up, know your true strength and 'Execute' all the struggles you meet on your path to 'Success.'
"The real talent is not giving up on yourself" says Kai1zer. "We feel the youth have no guidance, and with fathers in prison and mothers bending over backwards to help their kids, some youth turn to helping in a way that is risky and only effective in the short term, hustling, but this is not the only way. We want the apple to fall as far away from the tree as possible. Poverty and desperation lead to crime and drugs, I recently read in a book called Dutch. We as a team are demonstrating a different direction of life, trying to prevent any casualties and regrettable situations, speaking to the youth in a way they can understand. Some may not understand, not everybody is poor or desperate enough to do what some feel needs to be done and the outcome is the same every time. Incarceration or people dying, all for what, to get by? Kids nowadays are going to prison at age 18 because we don't have many positive role models teaching us responsibility, ambition, integrity and even safety. Kids go in for years and come out 25 and end up doing the same things, and I don't know about you but we need changes as a community. We need to come together. My motto is 'Get Up and Speak Up.' Meaning, write out what you're feeling at the moment instead of fighting in unnecessary drama. 'Get up' and write, 'Speak Up' and let it out. I want the youth of the town and the youth all around to 'Get Up and Speak Up'."
"Our youth are stepping up to be honorable citizens leading to the creation of a new future to create a better past" says Tyrone Wilson, Executive Director of Harambee.
"CCE supports our youth by helping them to obtain resources, brainstorming to help cultivate creative ideas and place words into action is the only way words can take on true meaning" says Bryant Drew Andrews, Executive Director of the Center for Creative Education.
"It is inspiring to see Kingston youth begin to take up the torch when it comes to exploring their relationship with the history of Kingston through the African Burial Ground and the slave society it was a part of, and sending a message to our community about their vision for the role of youth and our community to address the injustices that still prevail. Cyph Culture asked for our three organizations to collaborate on this event because they have been engaging with our work and we in turn have all been supporting them in moving their ideas forward through music, professional development and entrepreneurship" says Julia Farr, executive director of the Kingston Land Trust.
---
To make a contribution, visit donorbox.org/protect-pine-street-african-burial-ground and make a note that the donation is for Awakening Paths.
For more information on Cyph Culture, visit www.facebook.com/Cyph-Culture-ST
The Kingston Land Trust is a 501c3 nonprofit organization that protects, creates access to, and activates land for the common good.
Harambee is a 501c3 nonprofit organization whose goal is to bring the community together through celebration and awareness of African American History.
Center for Creative Education's mission is to enrich the social and cultural awareness of our youth and community through arts, wellness and education
August 2019: Cyph Culture performs at Harambee's First Annual African-American Festival in Kingston