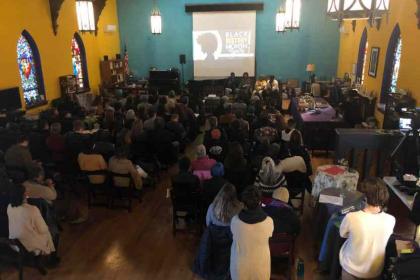 On Sunday, February 17, 2019 Black History Month Kingston, in partnership with the Kingston Land Trust, The Hudson Valley Farm Hub and Scenic Hudson presented The Possibility of Land in Black Hands, a discussion about land access and economic development strategies in black communities.
Speakers shared their experiences, challenges, and victories in creating black-owned food/agricultural cooperatives and black-led community land trusts.
Speakers:
Ed Whitfield, Fund for Democratic Communities
Karen Washington, Rise and Root Farm
Çaca Yvaire, Northeast Farmers of Color Land Trust
Jalal Sabur, Freedom Food Alliance and WILDSEED
We were thrilled to have over 130 in attendance and nearly 2,000 views on the event video so far! If you missed it, you can watch the full event here.